first off, werner herzog's,
of walking in ice.
i've been looking for this book in store since it was re-released in december and no where has it! i could just order it online, but i haven't yet, mostly out of spite over the fact that there is no other way i can pick it up. humph.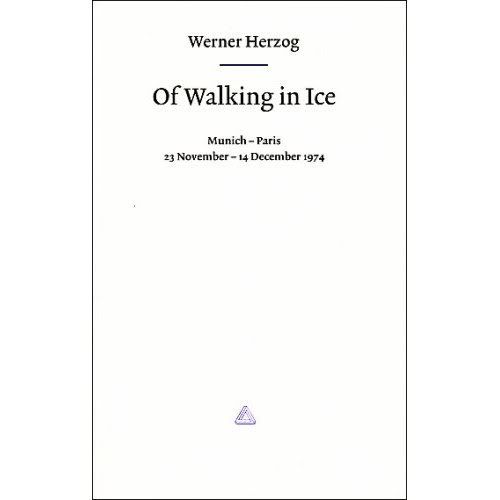 from amazon: In the winter of 1974, filmmaker Werner Herzog made a three week solo journey from Munich to Paris on foot. He believed it was the only way his close friend, film historian Lotte Eisner, would survive a horrible sickness that had overtaken her. During this monumental odyssey through a seemingly endless blizzard, Herzog documented everything he saw and felt with intense sincerity. This diary is dotted with a pastiche of rants about the extreme cold and utter loneliness, notes on Herzog's films and travels, poetic descriptions of the snowy countryside, and personal philosophizing. What is most remarkable is that the reading of the book is in continuity with the experience of watching his films; it's as if, through this walk, we witness the process in which images are born. Although he received a literary award for it, this introspective masterpiece has lingered out of print since 1979. Beautifully designed and emotionally impressive, Of Walking in Ice is the first in a color-coded series of remarkable yet long-forgotten titles being republished by Free Association.
ahh, i want to read it so badly!
next up is, more work by oakland artist chris duncan.


i first saw his work in a group show at space 1026 here in philly in 2004. i really loved his work, but the one piece that i especially loved had already been purchased so that put a damper on the whole thing and i didn't get anything. regretting it ever since, when i went to oakland in 2006 to visit my friend paul i asked if he knew if there was an artist named chris duncan who was in any shows. he said "he lives right around the corner, let me give him a call and we can go over there." lucky me, they knew each other from their delaware days! we went to visit his home/studio and it was great! he, his wife, his baby, his home, everything was the cutest possible. he showed me around and i purchased a painting in my price-range. ever since then i've been trying to keep up with his shows but i don't think that he's been back to the east coast lately. i can't wait until i own my own home one day and i have permanent places to put things. which bring me to…
a couch.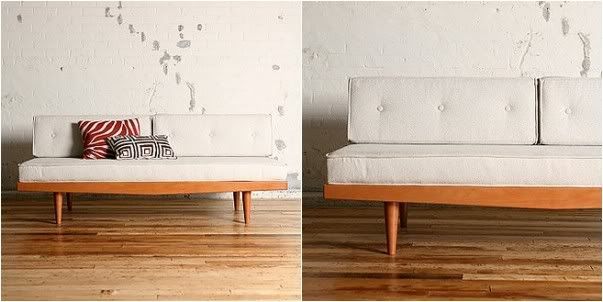 maybe not this couch specifically [from urban outfitters]. but something nice. something new. something not free [with good reason], covered in cat hair and picked apart. sometimes i can't wait to be a bit more 'grown up'.